Natural Gold Nuggets • Nugget Jewellery • Gold Bought & Sold Daily • Gold Crystals • Gallery & Souvenirs | Goldfields Tourism Award Winners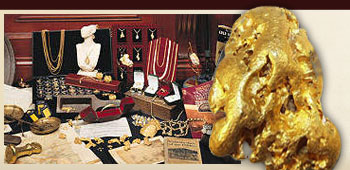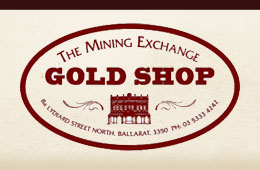 Manufacturers, distributors and retailers
of Gold gifts, Jewellery and Souvenirs
Australian Native Gold Pty Ltd | A.B.N. 88 058 905 418
8a Lydiard St North, Ballarat, Victoria, Australia
Telephone/Facsimile: +61 3 5333 4242
Email:
mail@thegoldshop.com.au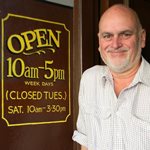 Contact us today!
---
Current Date & Time in Ballarat, Victoria
Thursday 30th Nov, 2:54am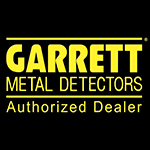 Products
Always Wanted: Historic & Antique Goldfields Books, Maps, Reports, Tools & Equipment
Payment and Shipping (Freight)
Accepted Methods of Payment
Please note that all prices are in Australian Dollars (AUD$).
The Mining Exchange Gold Shop and Australian Native Gold Pty Ltd have been trading in natural gold nuggets, and the jewellery (jewelry) we make featuring natural gold nuggets for more than 20 years.
We were the first to create a web site in the world specifically dedicated to gold nuggets in the early 1990's. The Mining Exchange Gold Shop is usually open (except for some Public Holidays) from Monday to Saturday 10am to 5pm, all year round.
We are not back yard operators, or people working from a Post Office Box, our shop welcomes you to come in and make your selection and purchases in person. In The Mining Exchange Gold Shop we offer Eftpos and Credit card facilities for most major Credit Cards. We do accept credit cards when you are shopping in person, but unless you have a prior record of making a purchase in our shop, we are sorry, but no payments can be made by telephone or on line (by email). So please call into The Mining Exchange Gold Shop.
If you are unable to visit the Mining Exchange Gold Shop (in the heart of Ballarat), we offer the following methods of payment, for people within Australia, and for people ordering from outside Australia.
Please note: All of our transactions go through The Mining Exchange Gold Shop's Point of Sale computer, and receipts are generated and given or sent when the goods are shipped, periodical payments are confirmed by a statement by email.
Orders and Payments from inside Australia
If you have selected an item and would like to purchase it please choose from the following options.
We bank with the National Australia Bank (NAB), so once we have quoted the cost of the goods you have selected and the method of freight, we can email you with an invoice with our banking details.
Otherwise, you are welcome to receive the invoice (by email) and pay via Western Union funds transfer.
We also accept Bank Cheques, Money Orders and personal cheques, all of which need to be cleared before goods can be dispatched. Please understand (from experience) that sometimes Bank Cheques are not worth the paper they are written on, so we MUST allow the banks to clear cheques. This does slow down the shipping of your order, so direct payment is the QUICKEST way to get your order moving to you.
International Orders and Payments
We have been sending our beautiful natural gold nuggets, and gold nugget jewellery (jewelry) all over the world for more than the last 20 years.
The simplest and safest method to make your payment is once again in Australian Dollars (AUD$), but funds transfer to our bank account. Please note that Australian Banks charge us AUD$30 to handle and clear international funds transfers, so this is a cost that must be passed on to you the customer.
On international orders we also accept payment of cleared funds by Western Union funds transfer.
Sorry, at the moment we do not accept PayPal or other intermediary funds providers, this may change so watch this space!!!
As stated above, we are unable to accept payment by credit cards via email, or the telephone, with one exception, and that is if you have made a purchase from our shop in person, and have one of our receipts we will, at our discretion accept payment in this form.
Please note: According to Australian Taxation Law, goods that The Mining Exchange Gold Shop sends overseas are exempt from Australian Goods and Services Tax (GST) – this means you can take off about 9% or 1/11th from the price on our web site as a saving to you! The ONLY GST the Australian Taxation Office (ATO) wants a part of is for the cost of freight (if it is not on your account) – and that is why most of our loyal customers from around the world choose to have goods sent on their personal or business freight account.
Lay-By and Lay-Away
As we are a creditable retail business with decades of trading history, with a street address that you are welcome to walk into, we do offer you the chance to pay for your purchase over time. Please note that we can not dispatch your order until payment in full is received and cleared (including the cost of freight etc). Due to Australian Law, our Lay-by conditions are that a 20% deposit is required and full payment is required over a maximum period of 3 (Three) Calender months. Please NOTE: If the lay-by is defaulted on (not completed for any reason) the initial 20% deposit is not refundable, any other moneys will be refunded in Australian Dollars (AUD$) by our company cheque less costs (postage). We offer this service to you no matter where you are in the world. We will hold and store your purchase (safely) until payment in full is made, in the stipulated time frame. Payments will be receipted by email showing the amount paid to date, and the amount yet to be paid.
Shipping (Freight)
Once again we have been doing this for more than 2 decades and the following is what we find to be the best method for all parties.
All goods are dispatched "ex-works" which means we can not be held responsible for loss or damage of orders in transit. Every care is taken to package your order for safe transit, but some things are beyond our control, so we can not accept responsibility for goods once dispatched. Please feel free to email us more about this if it is a concern.
Please note: We only dispatch freight on a Monday to Wednesday depending on where the goods are to be sent to. We want goods to travel quickly, and we have found the quickest method of transport is usually the safest. We do not like 'goods in transit' to sit in freight depot's over weekends. We will 'hold over' dispatching for these days unless directly told otherwise by you.
For all orders to be shipped we require the persons name (the one who will be signing for it), a full street address and a contact phone number to a landline (not a mobile or cell phone). At our discretion we may choose to call the number provided to ensure that it is legitimate. Don't worry, we won't keep calling, if we do call it is just to verify the honesty of the order. We only speak English (the Australian version) and every effort would be made to call between 9am and 12 noon in the country where you are (we respect international time differences).
Within Australia
Unless specifically asked otherwise (and we agree) we ship by Australia Post Platinum Service which can be tracked on line, and requires a person to sign at the receiving end.
Outside Australia
We offer a number of different shipping methods.
Usually we ask you, our customer to provide your DHL, UPS, or FEDEX account number, street address and phone number (plus of course your email).
If you do not have one of the above accounts, we will dispatch your order by Australia Post EMS (Express Mail Service) and delivery is usually within 5 working days to most parts of the modern world. Sometimes this can be delayed by Customs at your countries border, and we have no control over that. The cost of freight using EMS will be calculated on an order by order basis, so we will be able to provide an estimate, and will confirm this prior to your final payment.
For international orders, we know the International Customs Harmonised Codes for the items we send, and we ensure that we place this code on the attached documentation.
EMS offers an on line tracking service which is usually pretty accurate.
Insurance
We can offer you insurance for your goods in transit based on the value of your purchase. Please contact us for this prior to making your (final) payment. The insurance is ONLY for loss or theft, not confiscation by the lovely Customs (and other) Government Agencies at your borders, or other, and settlement may be delayed until investigations run their course.

A special note about the Christmas and New Year Period

As we have said (because it is true), we have been in professional business for more than 2 decades. While we actively try to meet and exceed our customer's needs, we have had enough experience to know that the period from December 18th to January 5th (depending on Public Holidays) can be a real pain to get orders safely and quickly delivered. Please ensure you place your orders, or allow sufficient time for funds to clear and freight to be dispatched outside of this very busy, and sometimes unsafe period. We say 'unsafe' because experience has proven that most Post Offices and Postal Depots around the world hire in casual workers during this period. Most are really good honest hard working people working under pressure with high volumes of postal freight, but sometimes they are not honest.

Please avoid requesting the dispatch of goods during this period. We will do it, and provide you with tracking numbers, but prior planning prevents poor performance (disappointment).